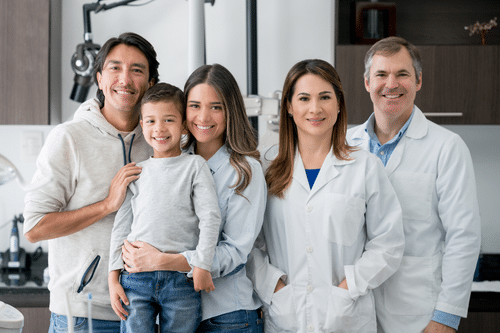 Some patients have the misconception that family dentists are only for families. However, a family dentist treats patients from all walks of life. They are an excellent option for anyone looking for a general dentist. 
From treating pediatric to geriatric patients and everything in between, a family dentist can help keep your teeth healthy your entire life. Let's look at why a family dentist is an excellent choice for dental care. 
Family-Oriented Dental Care
A family dentist offers family-oriented dental care, making it an excellent fit for families with children. This gives your dentist a complex history of your family's dental procedures and issues. This allows you to visit the same dentist for the whole family. If you're torn between seeing a pediatric and a general dentist or a family dentist, choose the family dentist. It will save you frustration and appointment juggling. 
Having a Family Dentist Promotes Good Dental Habits
A family dentist helps instill good dental habits from a young age. Teaching children to be comfortable with dental care early can reduce dental anxiety and lead to a lifetime of healthy teeth. A family dentist can also offer advice on keeping your children's teeth healthy and happy, and your teeth as well. 
Having a Family Dentist Helps Cater to Special Needs
Family dentists can have experience in treating patients with special needs. For example, suppose your family includes a member with a different ability level or unique dental considerations. In that case, a family dentist can help provide a safe, comfortable dental environment for them and your whole family. Some family dentists also offer sedation dentistry should this be needed. 
The Dentist Sees You
In general practice, you may only see your dentist if you have a dental issue. A family dentist treats each patient individually. This means that the dentist checks in on all patients and has an active role in your dental care. If you want expert attention to detail and treatment, you want family dentistry. 
One Location for Dental Appointments for the Whole Family
As mentioned earlier, your family dentist sees patients of all ages, meaning you only have to visit one dental office to get care for your entire family. This makes managing appointments and cleanings that much more accessible and cuts down on dental stress. 
Emergency Dental Services
If you're worried about dental emergencies in Long Island, a family dentist can help. Many family dental practices offer emergency dental care. This makes working with a family dentist for your dental needs much more critical. Thankfully, with emergency dentistry solutions offered at most family dentists, you can rest easy knowing you're getting care from a team you trust and who knows your dental history. 
If you want to make a dental appointment in Long Island, contact Avalon Dental today at (347) 472-0318. Our team of professional family dentists can help elevate your dental care. We provide caring, comprehensive dental services for the whole family. 
Source(s):
https://www.mouthhealthy.org/dental-care-concerns/how-to-choose-a-dentist