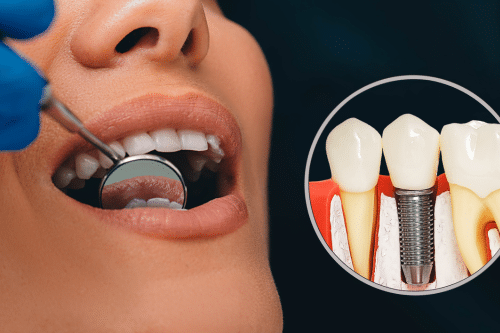 Dental implants can give dental patients a new lease on life and their smile. If you've had several teeth extracted or will need extractions, dental implants can revolutionize how your smile looks and help preserve your dental health. Here, we talk about dental implants, how they can transform your smile, and how you can tell if they fit your dental needs. 
What Are Dental Implants?
Dental implants are permanent replacements for your natural teeth. Dental implants look and act like natural teeth and are largely indistinguishable from other teeth. A dental implant can act as an anchor for a single crown (replacing one tooth). Dental implants can also work as full mouth restoration points, anchoring a full dental replacement to your jaw at several key points.
Dental implants can be broken down into two main parts: the anchor and the crown or dental fixture that attaches to said implant. These implants anchor into your jawbone and act as a stable point for the crown.
Because dental implants attach directly to your jawbone, they do require oral surgery and can take some time to heal as the jawbone grows around the implant. However, dental implants can last a long time (sometimes a lifetime depending on wear and tear), making them a great investment for anyone looking to upgrade their smile.
Benefits of Dental Implants
Not only do dental implants look and feel like your natural teeth, but they are also much more comfortable than traditional dentures. Unlike conventional dentures, dental implants help retain your jawline, which can help you appear younger. On top of this, dental implants attach directly to your jaw, giving you a secure chewing surface.
Dental implants can replace a single tooth or several teeth and may even replace your full bottom or top teeth in a procedure commonly known as an all-on-four dental replacement. A dental implant can also serve as an anchor point for a dental bridge, allowing your dental team to replace several teeth with a single implant.
While you should still take care of your dental implants, dental implants cannot get cavities like your natural teeth, as they are made from a composite material that does not decay the same as dentin. With dental implants, you avoid the discomfort associated with traditional dentures and can eat almost any food after the healing process.
While dental implants are a time and money investment, they can last for decades and preserve the health of your smile. They are a great option for anyone looking to replace a single missing tooth, several teeth, or even a full set of lower and upper teeth. If you're looking for a great way to restore your smile, preserve your jawline, and elevate your dental health, a dental implant may be right for you.
Remember that some health conditions make dental implants more difficult than others, such as diabetes, leukemia, or anything impacting bone healing. If you have one of these conditions, talk to your dentist to find out if you are a good candidate for dental implants.
If you want to learn more about dental implants or schedule an appointment, contact Avalon Dental at (347) 472-0318. Our team would be happy to answer your questions or help you plan a time to visit. 
Source(s):