Looking for a Top Rated Emergency Dentist in Flushing New York?
Welcome to Avalon Dental
Where modern dentistry and exceptional patient care meet for the whole family. We're conveniently located on near Bayside NY in Flushing. We provide general, cosmetic & implant dentistry to patients of all ages. Our friendly dental team welcomes you to experience the Avalon difference and join our dental family. We look forward to seeing your smiles in our office, so don't wait and book your appointment today!
High Quality Dental Care
Many Insurances Accepted
Transparent Pricing
Easy Online Booking
Modern 3D Technology
Free Netflix, Coffee & Tea Bar
Friendly Multi-Lingual Team
Late Night & Weekend Hours
Emergency Appointments & more
Emergency Dentist in Flushing NY
Avalon Dental offers convenient extended hours as well as weekend hours to better serve out patients. If you are experiencing a dental emergency, call our office immediately and we will fit you into our schedule as soon as possible.
Avalon Dental offers emergency dental services!
Avalon Dental offers emergency dental services! Dental understands that dental emergencies are unplanned, and that providing quality care as soon as possible increases your chances of a positive outcome. That is why we are committed to treating dental emergencies with compassion, urgency, and professionalism. In general, we can see emergencies the same day if needed— we have weekend and evening hours.
Whether you are a new patient, an existing patient, or a walk-in, you can be confident that you will receive the best in emergency care and treatment, no matter what brings you to us. Avalon Dental also accepts more major health insurance plans than most private practices, so chances are we accept yours as well.
How do I handle a dental emergency?
Dental emergencies and injuries can be frightening and unexpected, but they are almost always treatable and rarely life-threatening. It is critical not to panic and to seek emergency medical attention as soon as possible. While you wait for treatment, there are several things you can do to help minimize discomfort or pain and improve your outcomes.
If you've accidentally knocked out a tooth:
To avoid introducing bacteria or other pathogens to the tooth, avoid touching it by the roots. Only hold it by the crown.
You can rinse it with clean, cold water but not dry it.
Until you can get to the dentist, keep the tooth in a glass of milk or Save-a-Tooth solution (available at most grocery stores or pharmacies).
If you're bleeding, do the following:
Put gauze inside your mouth and apply a cold compress or ice pack to stop the bleeding.
If you have a toothache, swelling, or soreness as a result of an injury, do the following:
Apply a cold compress or an ice pack to your jaw.
Take an over-the-counter pain reliever and avoid foods that are chewy, hard, or crunchy.
What exactly is a dental emergency?
Dental emergencies require immediate attention, and you should see a dentist as soon as possible. Dental emergencies include the following:
Tooth loss or extraction If you can see a dentist within an hour, the dentist will most likely be able to re-insert the tooth into the socket and save it. For several weeks while the jaw bone refuses to the tooth, a wire or special splint may be used to keep the tooth in place.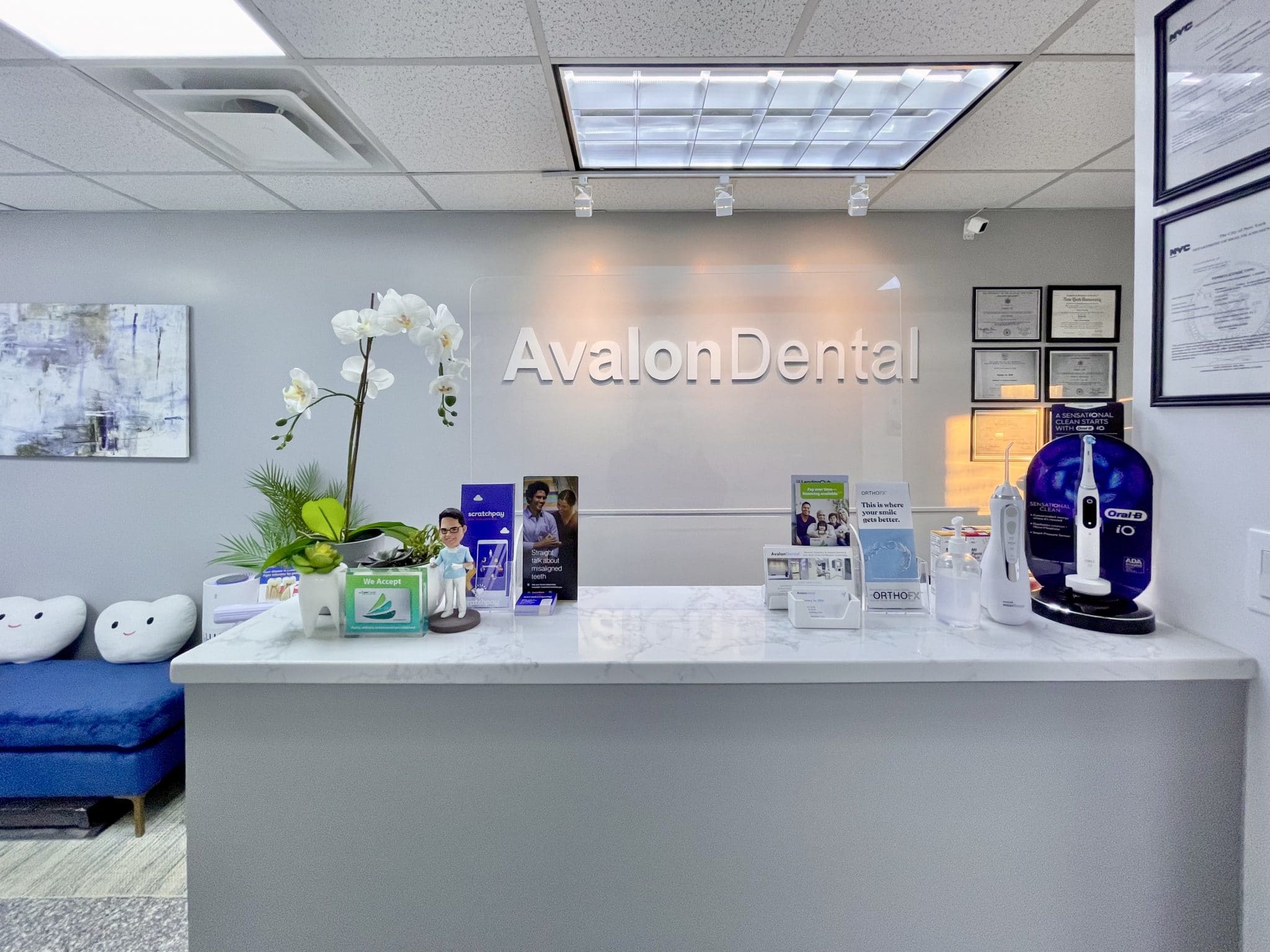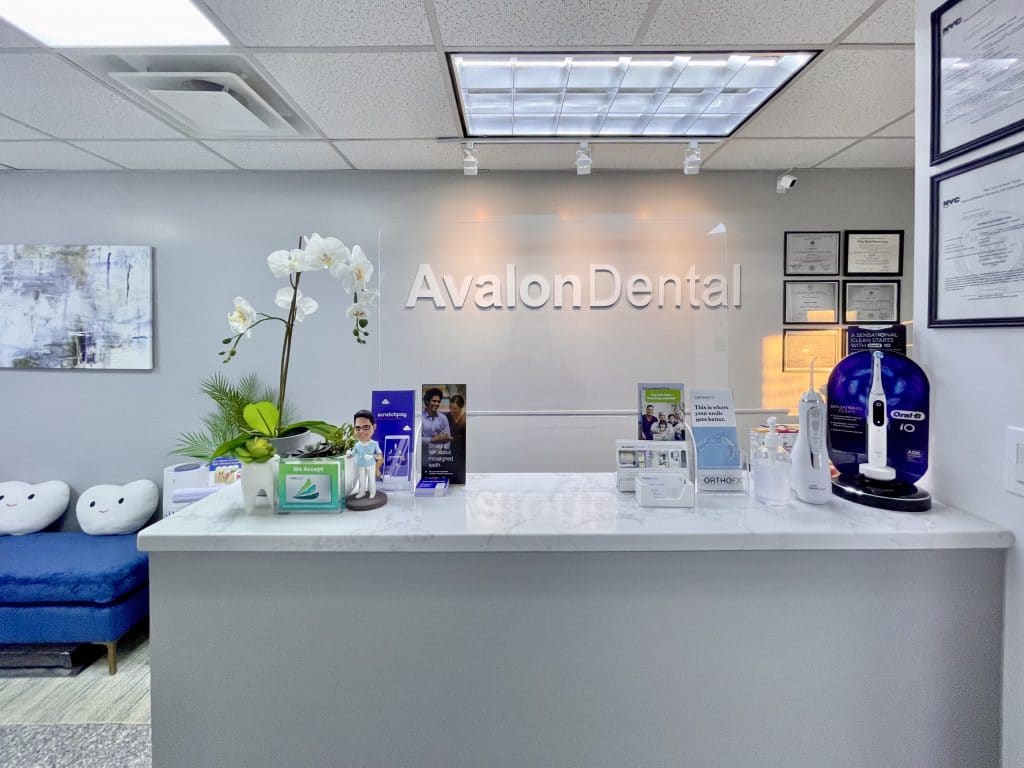 ---
What Do Our Dental Patients Say About Avalon Dental?
Great dentist and very friendly. Highly recommend coming here.
Mustafa Assady
July 14, 2022.
The absolute best dental experience I've ever had. Great dentist, nice and helpful staff, I really couldn't ask for more. Would highly recommend it!
BITHIKA CHOWDHURY
June 21, 2022.
Dr. Ye is the best dentist! I am so glad that I found this place. Every time I go there, they make me feel so comfortable.
Dr. Ye has amazing skills and an experienced doctor. He makes the procedures smooth and fast. I really appreciate the doctor and all staffs there — they are very helpful and friendly. Also, they helped me save money when insurance company is not willing to help; very transparent about everything!! 👍🏻 Dr. Ye is very patient and thorough. He did a phenomenal job with my root canal and crown - pain free. I would highly recommend this office to everyone.
Michael Kemp
June 12, 2022.
Great dentist and staff members..i would recommend anyone too go you wont be disappointed..probably the best dentist i went ever..keep it up
The dental office is extremely nice, also has good management. They are very patient to answer my every questions and tell me how to protect my teeth. Highly recommend this place if you want nice teeth and the place is super clean too. Amazing service.
---
Want To Know More About Bayside NY?
Bayside New York has a lot to offer. HERE is a brief history of the area.
Recreation
Little Bay Park
Throgs Neck Park
John Golden Park
Raymond O'Connor Field
Marie Curie Park
Bay Terrace Playground[56]
Oakland Lake
---
201-03 Northern Blvd 1st Fl., Flushing, NY 11361
Proudly serving: Dentist in Flushing, NY, Dentist in Bayside, NY | Click Dentist Near Me for quick directions to our office.
Learn More About Our Insurance Options