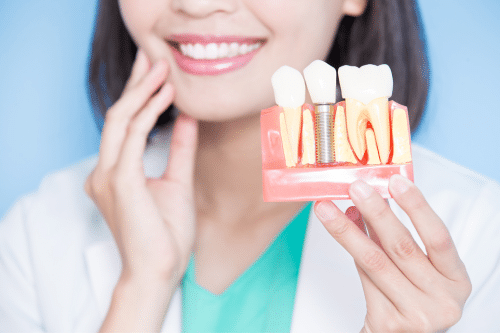 If you're looking to get a dental implant or want to replace your full set of teeth using an All-on-4 dental replacement, you're in the market for implant dentistry. While several types of dentists offer dental implants, oral surgeons are the primary point of contact for dental implants in most cases.
Finding an oral surgeon or dental implant specialist near you may initially seem challenging. Thankfully, there are plenty of ways to find and narrow your dental options, especially when looking for a specialist. From checking online reviews to listening to word-of-mouth recommendations, finding a high-quality oral surgeon doesn't have to be a struggle.
What Are Dental Implants?
Dental implants are a permanent solution to missing teeth. Unlike dentures, which sit on the surface of your gums, dental implants are secured to your jawbone, allowing more stability. Most dental implants look and feel just like your natural teeth, allowing you to eat nearly anything and care for the implants like your normal teeth.
Dental implants come in different shapes and styles depending on your needs. For example, getting a single dental implant can not only replace one tooth but can also act as an anchor for things like dental bridges, which can replace several missing teeth at once. You can also get a full set of teeth replacement called an All-on-4 or full set replacement using dental implant technology.
How to Find Oral Surgeons Near Me
Because dental implants require a level of jaw surgery for installation, it's best to look for a licensed and accredited oral surgeon to perform the procedure. Thankfully, there are plenty of ways to find oral surgeons near you.
First, you can ask your primary dentist for recommendations, as they usually have oral surgeons they recommend to patients. You can also search online to find implant dentistry options near you.
If you're looking online for an oral surgeon, pay attention to customer reviews and accreditation. A good oral surgeon should have good customer reviews, for the most part, and be willing to display accreditation or can provide proof of experience when asked. While a dentist without any reviews may be concerning in the modern day, finding an oral surgeon without any accreditation or training is more concerning.
Once you have a list of oral surgeons near you, it can help to talk to people you know about dental experiences they've had. Not only does this help you narrow down your options, but can act as reliable oral surgeon reviews, especially on a local level. You can also call any dental office with questions and concerns.
If you're looking for dental implants, check out Avalon Dental. Our team of trained professionals can answer any questions and help you get a feel for our practice. We pride ourselves on offering high-quality, compassionate dental care that puts our patients first. Oral surgeon Dr. Chun Pae Cho performs dental implant surgery at our office and works alongside our team of dental professionals to provide exceptional care. If you have any concerns or want to schedule a dental implant consultation, call us today at (347) 472-0318. We look forward to hearing from you. 
Source(s):
https://www.ada.org/resources/practice/dental-standards/dental-standards-executive-summaries/dental-implants