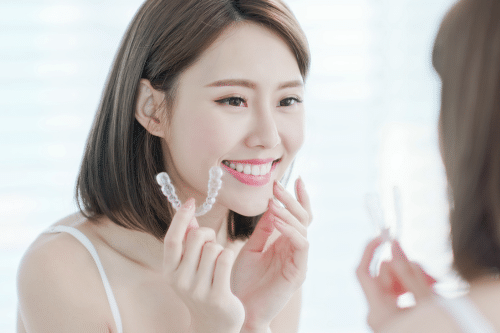 If you need braces, clear braces are a great option. They adjust your smile gradually and are virtually invisible, allowing you to maintain your natural smile without worrying about bulky traditional braces. However, when it comes to choosing invisible braces, there are several brands out there, making it difficult to choose the right braces for you.
Here, we discuss clear braces and the major differences between OrthoFX and Invisalign. Of course, if you have further questions about clear braces, talk to your dentist to find out which style they recommend, as they may have additional insight into which braces work best for your unique smile.
What Are Clear Braces?
Clear braces are a retainer that helps gradually move your teeth into a new position. Unlike traditional braces, which attach to the teeth, clear braces are removable, though you should wear these braces for upwards of 22 hours a day to ensure fast results.
Using several different retainers throughout treatment, clear or invisible braces gradually move your teeth to their final position without the hassle of brackets and wires like traditional braces. While not every patient is a good fit for clear braces, they are a great solution for some orthodontal patients looking to improve their smile and bite alignment.
What Is OrthoFX?
OrthoFX began in 2017 and has grown to be a popular player in the world of clear aligners. Their offerings are as effective as Invisalign, and with cosmetic-enhancing retainer options, they've become a popular choice for patients looking to improve their overall smile. OrthoFX is a type of invisible alignment corrector, much like Invisalign. It offers many of the same treatment plans and timelines as Invisalign, with cutting-edge technology options that boast a reduction in treatment times.
This brand works closely with dental teams to provide teeth straightening options for many patients. OrthoFX sports many cutting-edge dental treatment options, including clear aligners that give the illusion of whiter teeth thanks to tinted retainers. Not only do these aligners make your teeth appear whiter, but they also offer confidence-boosting alignment corrections, all without submitting your teeth to traditional whitening procedures.
What Is Invisalign?
The original player regarding clear braces, Invisalign, has been around since the mid-1990s, offering comprehensive dental realignment to patients that qualify for their services. Their innovative retainer system is a staple in many orthodontal offices worldwide and for good reason. Invisalign offers a simple, easy-to-follow treatment plan to gradually move teeth to a new position using their clear retainers.
While they may not offer the same whitening retainers as OrthoFX, these clear retainers are a fantastic way to achieve your dream smile while fixing your bite alignment and solving other dental concerns that can come with a misaligned smile.
If you're interested in clear braces, your dental team can help direct you toward a program that works best for you and your dental needs if you're looking for a team of dental professionals who can answer your questions and help you achieve your dream smile, reach out to Avalon Dental. We can answer any questions about invisible braces and ensure you get the best treatment available. Contact our office today at (347) 472-0318 to make an appointment. 
Source(s):
https://marketplace.ada.org/blog/dental-marketing/say-cheese-7-advantages-of-invisalign-over-traditional-braces/