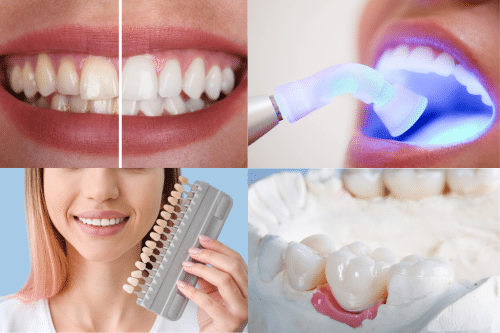 Cosmetic dental procedures can transform your smile for the better. Here, we cover some of the most popular cosmetic dental procedures in Queens, NY, and talk about how they can not only fix your smile but also transform your self-esteem and confidence. From classic teeth whitening to fillings, veneers, and crowns, here are the most popular cosmetic dental procedures.
Teeth Whitening
While there are teeth whitening kits for home use, getting your teeth professionally whitened has several benefits. First, leaving the teeth whitening to a professional dentist ensures you avoid some of the sensitivity and other complications from over-the-counter teeth whitening kits. It also means that your teeth end up evenly whitened all around instead of potential patchiness or tough stains.
If you're looking for beautifully whitened teeth, talk to your dental team about your options, as most dental offices offer teeth whitening.
Composite Fillings
Composite fillings are much more aesthetically pleasing than other filling options on the market. Unlike metal fillings, which stand out in the mouth, composite fillings are made to match the surface of your teeth, allowing your dentist to fix any cavities or uneven surfaces without changing the overall appearance of your teeth. No wonder composite fillings are among the most popular cosmetic dentistry options in Queens, NY.
As a bonus, composite fillings are as strong as their metal amalgam counterparts, meaning you can have aesthetically pleasing fillings without compromising on the structural integrity of your teeth. Talk to your dentist about composite fillings the next time you go in for a cavity filling or as an option to replace old, unsightly metal amalgam fillings.
Veneers
Veneers are thin porcelain or resin composite shells that go over your existing teeth. These shells can be used to fix chipped teeth and correct the overall shape and spacing of your teeth. With ultra-thin porcelain veneers, you can update the appearance of your teeth without needing as much mass removal as you would with classic veneers. Veneers last for several years and are a great option for anyone looking to update the total appearance of their smile without investing in dental implants, braces, or excessive stain-removal treatments.
Crowns
While dental crowns are part of structural treatment options for teeth, they can also be used to change the overall appearance of your smile. Dental crowns can cover unsightly stains and concerning surface aberrations in your mouth, leaving you with a strong, natural-looking smile. Dental crowns come in a wide range of styles, from the metal version you may be familiar with to resin and other composite crowns to match your natural teeth color.
If you're interested in cosmetic dentistry near Queens, NY, contact Avalon Dental to request an appointment or call (347) 472-0318 today. Our team of trained dentists can talk with you about the best cosmetic dental procedures for your needs and answer any questions you may have. If you want to revolutionize your smile, Avalon Dental is the right dentist for you.
Source(s):
https://www.mouthhealthy.org/all-topics-a-z/veneers
https://www.mouthhealthy.org/all-topics-a-z/dental-filling-options
https://www.mouthhealthy.org/all-topics-a-z/crowns/
https://www.ada.org/resources/research/science-and-research-institute/oral-health-topics/whitening